Rare, Unique,
And Stylish.
Are you trying to find designer eyeglasses in Kelowna? Bring together fashion and style from top European designers without needing to travel across the world and learn a new language or two. We only stock the newest and highest quality designer eyeglasses from across the globe. Find designer glasses in Kelowna that fit you and your style perfectly today.
See life more clearly.
Come in and be inspired to express yourself with creative and unique eyeglasses. Use the advice of our licensed Opticians who have travelled the world to find the newest designer frames and bring them back to Kelowna's downtown core.
You can reach out to us however you like. Visit our shop or contact us online to find even more designer eyeglasses in Kelowna. If you would like to try visiting our Facebook Page to see if we have what you are looking for. Click here to glance through the blog to have a look through some of our posts to see if we have already answered some of your questions.
Standard reading glasses don't always work for everyone. We have on-site optometrists that are certified to give you an eye exam. Let us help you find out what type of reading glasses fit your needs. Go ahead and see our services page to book an eye exam today.
Find Designer Eyeglasses In Kelowna.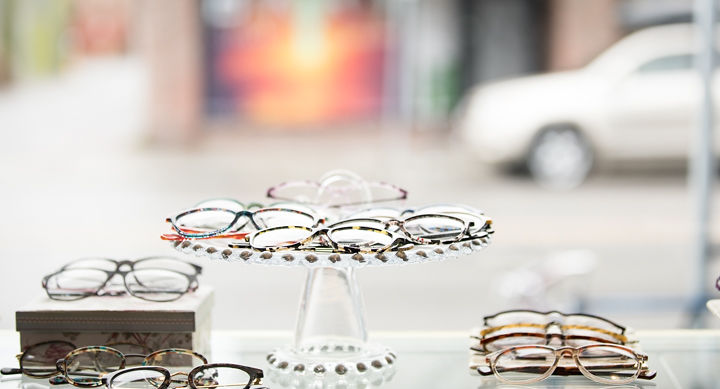 All

Designer Frames

Reading Glasses

Safety

Sunglasses
Premium Lenses
We specialize in premium lenses for optimal vision. Innovative lens design has created a new breed of digital lenses that provide vivid, high-definition vision. 
Experience crystal clear vision with personalized lenses from premium manufacturers Shamir, Zeiss, Essilor, Rodenstock and Hoya. And when you have found the right lens, we will make sure it's placed in a designer frame that matches you perfectly.
Designer Rx Sunglasses
Living in the Okanagan, sunglasses are a must-have to protect your eyes from harmful UV, reduce glare and improve your visual clarity on bright sunny days.
Inspired eyes Kelowna offers fashionable styles with full UV production and excellent optics, available in prescription and non-prescription.
Low Vision Aids
Low vision aids help to restore independence and the ability to function in daily life for those who have experienced partial vision loss.
Handheld magnifiers, electronic magnifiers, CCTV's, specialty lenses and telescopic aids are just some of the many low vision aids available.
Low vision assessments can be done at our office or in the home. The goal is to identify the most pressing difficulties and find solutions that make living with low vision easier and more enjoyable.
CLICK HERE to learn more about our Low Vision services.
Safety & Sport Rx Eyewear
Protect your eyes on the job or on the court with our Industrial Safety or Sport Safety Rx Eyewear. Available in single vision, multi focal and progressive lenses and manufactured to CSA standards in CSA compliant frames, we can help you reduce the risk of eye injury. You'll find an in-store selection of the most popular Wiley X, Uvex, and On-Guard safety frames as well as glasses for sports such as hockey, soccer, racket sports and swimming.
Ready Readers
These aren't your grandmothers reading glasses. Inspired Eyes offers a wide selection of modern, stylish, and high-quality ready readers in powers from +0.75 to +4.00. If you are spending a lot of time in front of a computer, we can help you find glasses for that. We have a wide variety of glasses with blue-light protection to help protect your eyes from the fatigue that comes from working on a computer.