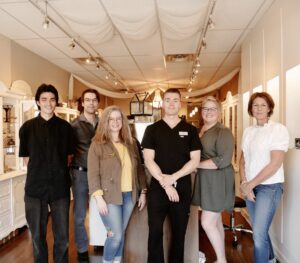 Inspired Eyes Creative Eyewear is an optical boutique located in the heart of downtown Kelowna. We specialize in rare, innovative, and beautiful eyewear from exclusive leading brands and custom lenses in a comfortable and charming boutique setting.
---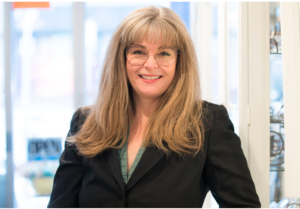 Lana Belvis, Licensed Optician / Owner:
Licensed Optician, Lana Belvis has over 30 years experience in eye care and can expertly guide you in selecting the best visual solutions to meet your individual needs. She loves that being an optician is the perfect combination of science and art – its physics, healthcare and fashion all rolled into one! With an eye for style and an expert understanding of optics, Lana is passionate about helping you see life more clearly and inspiring you to express yourself through creative and unique eyeglasses. Originally from Ardrossan, AB,  a small town near Edmonton, she graduated from the Optical Sciences program at N.A.I.T. in 1990. Lana moved to Kelowna in1993 and has been working locally in visioncare since then. In 2010 she founded Inspired Eyes Creative Eyewear with a vision to provide Kelowna with a unique take on eyewear. At Inspired Eyes, Lana brings together premium brands and years of optical experience to provide a truly unique eyewear experience – one that is personalized, relaxed, and enjoyable!
---
Dr. Walker hails from Mississauga, Ontario, and has been practicing Optometry in the Okanagan since 2015. He completed both his Bachelor of Science and Doctor of Optometry degrees at the University of Waterloo, graduating in 2012. Dr. Walker has completed additional post-graduate training in the areas of Vision Therapy & Neuro-Visual Rehabilitation as well as Ocular Wellness & Nutrition. He is currently a member in good standing with Vision Therapy Canada (VTC) and the College of Optometrists in Vision Development (COVD) as well as a fellow with the Ocular Wellness & Nutrition Society (OWNS). These two areas are complementary to his passion for protecting and maintaining optimal visual health throughout life. Outside the office he enjoys music, hiking, cooking and appreciating all that the Okanagan has to offer with his wife and son.
---

Dr. Maegan Folk, Optometrist:
Dr. Folk was born and raised in Moose Jaw, Saskatchewan. She obtained her Bachelor of Science degree in Biology at the University of Regina and her Doctor of Optometry degree from the Pennsylvania College of Optometry in 2014. Dr. Folk practiced optometry in the rural South Okanagan for 5 years and gained experience in family and geriatric care while also managing a wide variety of ocular disease. She anticipates getting to know her Kelowna patients and integrating into the community. Outside of the office her passions are skiing and spending time on the lake. She also enjoys beach volleyball, hiking, cycling and going back to Saskatchewan to visit family and take in a Roughrider game.
---

Alison Hart, Ophthalmic Assistant:
Alison is an Ophthalmic Assistant and the friendly face that welcomes you when you arrive at Inspired Eyes.  Originally from Scotland, she and her husband moved to Saskatchewan where they lived for four years before settling in to make Kelowna home! They have raised their three sons here and have thoroughly enjoyed living the "Okanagan lifestyle",  taking advantage of skiing, cycling and golfing. After selling her own business she still wanted to be working and meeting people. She loves the culture, the atmosphere of caring and the excellent customer service she found when she joined the team of awesome  eye care professionals at Inspired Eyes.
---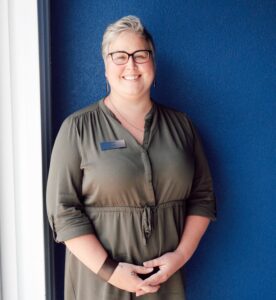 Teal Goyeche, Lab Manager:
Born and raised in the Okanagan Valley, Teal found her way into optics unexpectedly- and more than 20 years in, she's still going strong! Her lab is her castle, and in it, Teal is busy crafting eyeglasses with care, precision, and an eye for the beautiful. She has finally hit the big leagues at Inspired Eyes, and she wants nothing more than to get her experienced hands on your newest set of glasses. When she isn't working, you might find Teal gardening, socializing, or out and about on a patio enjoying all the Okanagan has to offer.

Nicholas Rudersdorfer, Licensed Optician:
Nicholas is a Licensed Optician and Laboratory Tech who began working in the optical industry in 2015, specializing in lens-making and 'miracle' repairs. He loves a good challenge. Nicholas likes to see customers through from start to finish, to ensure that every stage of their eyeglass design is given the full consideration it deserves. He enjoys pushing the limits in the fields of optical science, always seeking further advancement and discovery, with the aim of exceeding customer expectations and creating a spectacle-u-lar experience.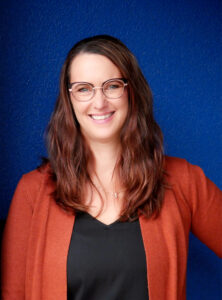 Alana Schatz, Canadian Certified Optometric Assistant (CCOA)
Alana started her career in optics in 2010 and  became certified in 2013, helping clients with choosing frames and lenses to suit their visual needs ever since. Alana has a knack for connecting with clients and her compassion and listening skills make her an asset as a dispenser. She loves making sure that choosing your eyeglasses is a fun and  enjoyable experience. Let her help you find the perfect frame to suit your personal style. Alana lives in Summerland B.C. She enjoys travelling with her fiancé, exploring the beauty of our province on the back of a motorcycle, spending time with her adult children and sampling at the many wineries and restaurants in the region.