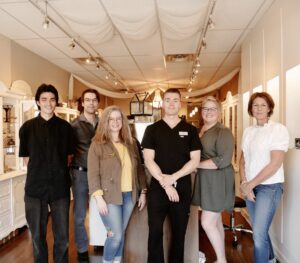 Inspired Eyes Creative Eyewear is an optical boutique located in the heart of downtown Kelowna. We specialize in rare, innovative, and beautiful eyewear from exclusive leading brands and custom lenses in a comfortable and charming boutique setting.
---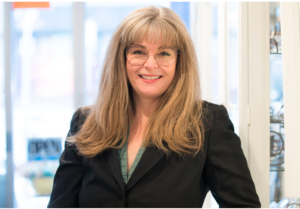 Lana Belvis, Licensed Optician / Owner:
Licensed Optician, Lana Belvis has nearly 30 years experience in eye care and can expertly guide you in selecting the best visual solutions to meet your individual needs. With an eye for style and an expert understanding of optics, Lana is passionate about helping you see life more clearly and inspiring you to express yourself through creative and unique eyeglasses.
Originally from Edmonton, Lana has practiced in the Kelowna area since 1993, and in 2010 founded Inspired Eyes Creative Eyewear with a vision to provide Kelowna with a unique take on eyewear.
At Inspired Eyes, Lana bring together premium brands, and years of optical experience to provide a truly unique eyewear experience – one that is personalized, relaxed, and enjoyable.
---
Dr. Danny Walker hails from Mississauga, Ontario, and has been practising Optometry in the Okanagan for the past two years. Dr. Walker completed both his Bachelor of Science and Doctor of Optometry degrees at the University of Waterloo, graduating in 2012. He was voted by his fellow classmates to receive the Dr. Michael Gutwein Memorial Award in his final year of Optometry school, awarded to the most social and involved student in the class. Upon graduation, he moved to Corner Brook, Newfoundland for three years, where he had the opportunity to practice full-scope Optometry in a variety of rural locations. Following his time on the Rock, Dr. Walker moved to the Okanagan, where he has enjoyed being able to provide his patients with thorough examinations and personalized eye care. He has a special interest in protecting and maintaining optimal visual health through a variety of factors that include lifestyle and nutrition.
Outside the office, Danny enjoys playing and listening to music, hiking, cooking, and pretending to know about wine with his beautiful wife, Casey.
---

Dr. Maegan Folk, Optometrist:
Dr. Folk was born and raised in Moose Jaw, Saskatchewan. She obtained her Bachelor of Science degree in Biology at the University of Regina and her Doctor of Optometry degree from the Pennsylvania College of Optometry in 2014. Dr. Folk practiced optometry in the rural South Okanagan for 5 years and gained experience in family and geriatric care while also managing a wide variety of ocular disease. She anticipates getting to know her Kelowna patients and integrating into the community. Outside of the office her passions are skiing and spending time on the lake. She also enjoys beach volleyball, hiking, cycling and going back to Saskatchewan to visit family and take in a Roughrider game.
---

Alsion Hart, Ophthalmic Assistant:
Alison is an Ophthalmic Assistant and the friendly face that welcomes you when you arrive at Inspired Eyes.  Originally from Scotland, she and her husband moved to Saskatchewan where they lived for four years before settling in to make Kelowna home! They have raised their three sons here and have thoroughly enjoyed living the "Okanagan lifestyle",  taking advantage of skiing, cycling and golfing. After selling her own business she still wanted to be working and meeting people. She loves the culture, the atmosphere of caring and the excellent customer service she found when she joined the team of awesome  eye care professionals at Inspired Eyes.
---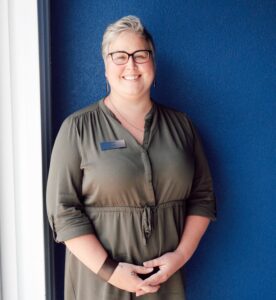 Teal Goyeche, Lab Manager:
Born and raised in the Okanagan Valley, Teal found her way into optics unexpectedly- and more than 20 years in, she's still going strong! Her lab is her castle, and in it, Teal is busy crafting eyeglasses with care, precision, and an eye for the beautiful. She has finally hit the big leagues at Inspired Eyes, and she wants nothing more than to get her experienced hands on your newest set of glasses. When she isn't working, you might find Teal gardening, socializing, or out and about on a patio enjoying all the Okanagan has to offer.