New Patients Welcome
Call to book your appointment today.
Friendly. Professional. Experienced.
At Inspired Eyes Optometry Kelowna, we create a personalized vision care experience to enhance your visual health, help you expresses your style, and provide eyewear that fits with utmost comfort. Visit our modern clinic and charming boutique at 1560 Pandosy Street and let our optometrist and team of experienced opticians recommend the frame and lenses that best suits your features and your prescription.
Meet with our Kelowna optometrist at our downtown location.
Inspired Eyes is located in the downtown Kelowna area and features a modern, on-site optometry clinic. Our in-house Optometrist, Dr. Daniel Walker is available for complete eye health assessments that include retinal imaging, contact lens fittings and low vision exams with daytime, evening, and weekend appointments available.
Dr. Walker's patients appreciate that he takes the time to listen to their concerns, answer questions and teach them about their eye health. He has a special interest in improving and protecting vision through nutrition. His passion for educating patients about the health of their eyes is evident in the interactive and thorough eye examinations he provides.
Eye exam frequency:
Children: To ensure optimal eye health and development it is important for your child to have an eye examination at six months, before starting kindergarten, and annually throughout the school years.
Adults aged 19 to 64: Adults should have an eye exam at least every two years or more often if required to monitor other health conditions.  Yearly examinations are recommended for people with diabetes.
Seniors aged 65 or older:  For seniors there is a  higher risk of cataracts, diabetic retinopathy, macular degeneration and glaucoma. These conditions  may cause a decrease in vision if left undetected or untreated. A yearly eye examination is good practice to protect and preserve vision.
If you are looking for a new Kelowna optometrist, contact us for more information!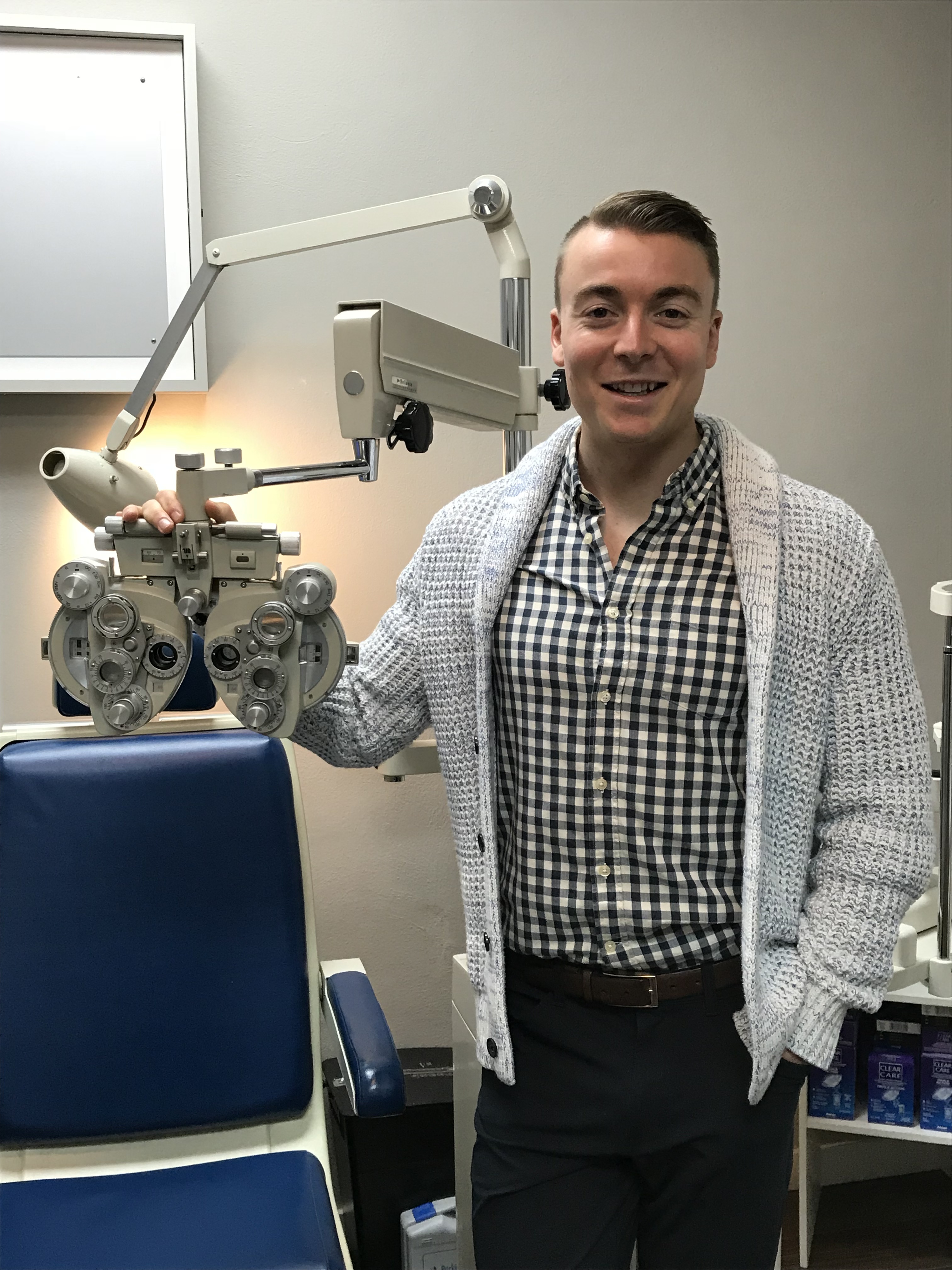 Dr. Danny Walker hails from Mississauga, Ontario, and has been practicing Optometry in the Okanagan for the past two years. Dr. Walker completed both his Bachelor of Science and Doctor of Optometry degrees at the University of Waterloo, graduating in 2012. He was voted by his fellow classmates to receive the Dr. Michael Gutwein Memorial Award in his final year of Optometry school, awarded to the most social and involved student in the class. Upon graduation, he moved to Corner Brook, Newfoundland for three years, where he had the opportunity to practice full-scope Optometry in a variety of rural locations. Following his time on the Rock, Dr. Walker moved to the Okanagan, where he has enjoyed being able to provide his patients with thorough examinations and personalized eye care. Dr. Walker has a special interest in protecting and maintaining optimal health through a variety of factors that include lifestyle and nutrition.
Outside the office, Danny enjoys playing and listening to music, hiking, cooking, and pretending to know about wine with his beautiful wife, Casey.